Getting your property ready for the summer
Created: Tuesday, 02 June 2020
Written by Mark Jansen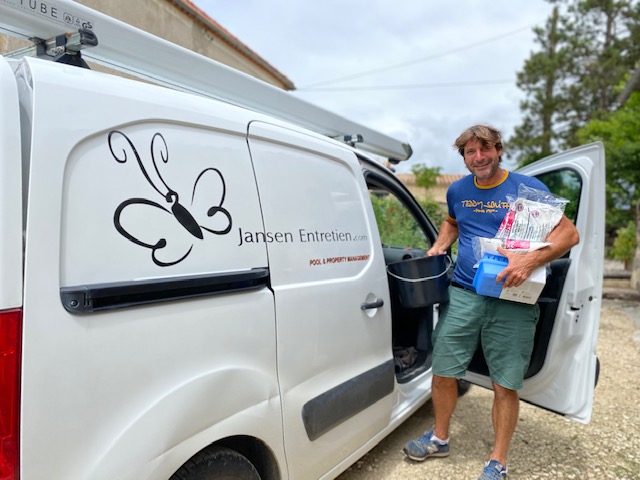 Reopening pools for the summer have similarly been keeping us occupied. It is important to keep a swimming pool maintained throughout the season, dealing with minor repairs, renovations, and pool cleaning. Once people start coming on holiday again their pool will be in perfect condition for them and their families to relax and enjoy.
We have also started work on another renovation project.
The house near Monbahus is a 100-year-old property with extensive land – 6 hectares, no less. One of our first jobs was to construct fencing to enable the horses and donkey to enjoy the freedom and open space.
The owners are keen to use green technologies, so we are redoing all the electrics and installing a 'chauffe-eau thermodynamique' heating system, supplying heat to all the house using the existing radiators. We have also insulated the walls and the roof, ensuring the house will be warm and energy efficient during the colder months.
What is more, the house draws water from both a well and a large reservoir, with a grey water recycling system to minimise water waste. This is just the start.
It is an exciting project – we will update you in due course....
At Jansen Property Services we make it our business to ensure you can enjoy your second home, carefree. Whether you are looking to buy, undertake a renovation or construction project, rent out your second home or need some help with pool or garden maintenance, we're the only number you'll need to call. Alternatively visit our office by appointment in Villeréal near the Gendarmerie in the building of our partner, Immobilier Sud Périgord (at the old petrol station).
Boulevard de Plaisance
47210 Villereal
+ 33 (0) 6 32 29 83 74
This email address is being protected from spambots. You need JavaScript enabled to view it.