Have you ever wanted to have your own bar?
Created: Monday, 20 May 2019
Written by Mark Jansen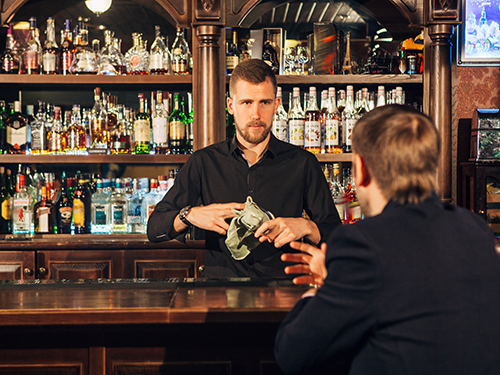 Many of us perhaps dream of having our own bar - and over the next few weeks we will be making that a reality for our latest client.
In April we were approached by the client who lives in Malta and who has recently acquired a property in the west of our region, in the Lot-et-Garonne. Although in good shape, it is an old building and the new owner wishes to personalise it to his own taste with significant updating.
The aim of the project is to refurbish the premises, decorate the entire interior, creating a micro-cement floor, plus removing the chimney and wood burners. We will also be fitting double French opening doors providing external access to the terrace combined with the installation of a CCTV system.
One of our first tasks is to lay new drainage, reconnect the electricity and undertake other water preparations, providing the foundation for us to install new toilets and other plumbing work.
There will be a full refurbishment of a bar, additional lighting points as well as new furnishings. The owner sent us a photo of an American themed bar which he wishes us to model the renovation on, complete with wooden panels and marble tops. This is the fun and challenging part.
It is a really exciting project…Work commenced at the beginning of May and will be completed by the end of July.
If you have a project – large or small – please get in touch.
At Jansen Property Services we make it our business to ensure you can enjoy your second home, carefree. Whether you are looking to buy, undertake a renovation or construction project, rent out your second home or need some help with pool or garden maintenance, we're the only number you'll need to call. Alternatively visit our office by appointment in Villeréal near the Gendarmerie in the building of our partner, Immobilier Sud Périgord (at the old petrol station).
Boulevard de Plaisance
47210 Villereal
+ 33 (0) 6 32 29 83 74
This email address is being protected from spambots. You need JavaScript enabled to view it.