Whatever your size of project in France, we can deliver
Created: Friday, 12 April 2019
Written by Mark Jansen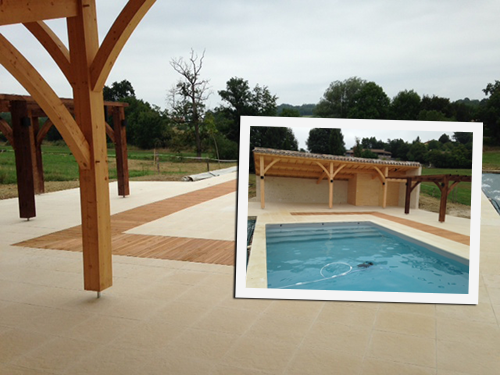 In February a new client contacted us to help them after buying a property near Monpazier. The house is to be let as a gite and they wanted Jansen Property's advice as to how to make it more attractive as a place to stay and how to maximise the rental value.
We met with the couple, who live abroad, and gave our opinion on the work required to secure a good letting income during the summer. Although the property and gardens were generally in good condition, they were keen to ensure that the house had the 'wow' factor, so we produced a list of improvements inside and out.
With the summer fast approaching it clearly was important to get started quickly with this project – and within 2 days of the couple agreeing our quotation, we had got to work.
We have agreed a schedule with the client which means that all of the necessary work for this 130 m2, three-bedroom home shall be complete by mid-May. So far, we have already installed the air conditioning system. The external painting and the woodwork will start soon.
After the external painting is complete, the internal decoration in the bedrooms, hallway, lounge and bathrooms will start. The property also benefits from a pigeonnier providing more accommodation. To finish, we will fit new curtains and other soft furnishings as well as the other important interior touches that ensures that the gite will be cosy and comfortable. As we know internet connectivity is important – so we have improved the Wi-Fi system too.
Outside, we have demolished the existing external terrace and will lay some beautiful Travertine tiles. The house has beautiful gardens with trees providing some cooling shade and a welcoming swimming pool, perfect for relaxation on hot sunny summer days.
This project has required a lot of organisation, scheduling the different artisans and trades to ensure that everything happened when it should. As the project approaches the finishing line, we are really proud of what has been achieved – with of course the ultimate aim of making sure that we have a happy client.
If you have a project – large or small – that you need help to make a reality, please get in touch.
At Jansen Property Services we make it our business to ensure you can enjoy your second home, carefree. Whether you are looking to buy, undertake a renovation or construction project, rent out your second home or need some help with pool or garden maintenance, we're the only number you'll need to call. Alternatively visit our office by appointment in Villeréal near the Gendarmerie in the building of our partner, Immobilier Sud Périgord (at the old petrol station).
Boulevard de Plaisance
47210 Villereal
+ 33 (0) 6 32 29 83 74
This email address is being protected from spambots. You need JavaScript enabled to view it.